From The Desk Of Principal
As the very proud principal of this academically selective-epitome of learning, Guru Amar Dass Public School with a well respected history of providing exceptional educational outcomes and opportunities for gifted and talented students since 1984, I warmly welcome you to the website of GADPS.
Our hope is that you find our website to be user friendly, and after your visit, you will have a good idea of all we have to offer.
School is the second home for the little ones in the down years where they not only refine themselves academically, but visit it for their holistic development and a child is able to do that only with guidance of teachers and love of parents. It is not the classrooms, the library, laboratories or large fields that make a school .It is the heart of the students and staff, on which that true institution exists.
My philosophy of education is based on the process of reaching out to the heart of my students who are at the centre of all instructional pedagogy, methodologies, processes and planning.
My motto is not only to cater to the scholar's appetite of knowledge, albeit, my objective is to inculcate moral aesthetics amidst them, to yield responsible citizens. The present times, marked by a chaotic situation, cut – throat competition and insensitivity towards others, demand rethinking on how best education can contribute for a peaceful coexistence of all.
No one can deny the pivotal role education has to play in this century to bring about the much desired catharsis of our society plagued by violence, hatred, anger, frustration, lawlessness and uncaring feeling for others.
In today's dynamic world, a 360 degree development and grooming is of supreme importance and through our campus we are creating an environment for future leaders, enterpreneurs and professionals who possess skills and aptitude in an array of functional disciplines.
Our curriculum, course offerings, co-and extra-curricular offerings are second to none. We strive to create an environment, where each and every child is given the attention necessary to achieve his/her individual success.
My very competent team of teachers strive to focus on each and every child, monitor and mentor them, appreciate their achievement and encourage them to overcome their shortcomings.
I urge all the teachers to create appropriate, meaningful and participative learning situation, inculcating life skills in the impressionable children and appreciating their smallest efforts with all generosity and broadness of vision.
Our children leave GADPS as literate, numerate, spiritually inclined noble souls ,well educated citizens who have the capability,confidence and independence to make positive contribution to our society. I want my students to possess 4C's…they should be competent, caring, confident with good communication skills.
As parents we need you to develop a close rapport with the school and the teachers in order to smoothen the ups and downs in a child's development and also to increase the overall academic excellence of students. My worthy parents, we need to collectively put endeavours and work hand in hand, to assure that our lovely off springs do not astray from moral path and tread on the path of victory. To achieve the desired goal. I need all your support and cooperation.
We are proud to be a high performing school and aim to be the selective school of first choice for all families and communities.
As an act of affirmation and dedication in my most humble capacity, I promise to dedicate myself to my children so that wherever I go on this planet, my institution will become an academically vigorous celebration of learning….
May God be with us….
I hope that our website will assist in the endeavour.
If you have any questions or concerns please do not hesitate to contact us.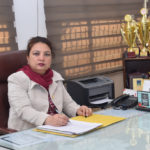 Navneet Kaur Kukreja
Principal